Japanese lessons to bring awareness and joy to everyday life.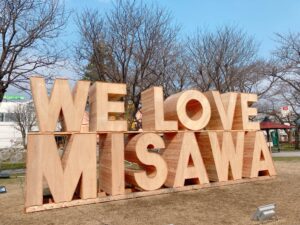 ▪︎ Improve communication skills with japanese kindergartens, school teachers, and other parents. Learn to make friends!


▪︎ Gain the ability to obtain necessary information when shopping in Japan.


▪︎ Develop the ability to read event information to enjoy life in Aomori and Misawa.
Private Japanese lesson for your educational needs and at your own pace.​
I recommend my lesson to those people who;
✔︎ Want to learn Japanese language to live in Japan.
✔︎ Want to take lessons during the daytime.
✔︎ Want to study, but you have small kids.
Asami-san was incredibly patient and helpful during my Japanese lessons! I was nervous about speaking Japanese but her skilled expertise helped me gain confidence! After her coaching, I now enjoy a beginner's understanding of conversational Japanese! This has opened up more connections with the Japanese community for which I'm incredibly grateful. Asami-san's explanations and insight with speaking Japanese helped me learn so much about Japanese culture! Thank you Asami-san!
My experience with Nihingo Ao has been nothing less than amazing . As a Japanese/American it was very important for me to finally learn Japanese and Asami-Sensei has truly helped me closer to my goal. I have been able to learn more about my own culture and speak and connect with my family members in a way I never could. She caters the lessons to your goals, whether you want to learn simple conversational phrases or fully deep dive into the Japanese language and culture! She is truly a gifted and knowledgeable teacher, and her lessons are fun but always challenging! If you are looking for a Japanese tutor for your child or yourself, you can not go wrong by investing in her lessons. My family and I can not recommend her enough!
My husband and I started lessons with Asami last year. We were trying to learn Japanese on our own using apps. Asami created lessons specifically for us to help us where we were having difficulties. Having Asami guide us through our lessons and answer questions is beyond helpful. Asami always has a joyful personality and makes our lessons fun. She is very flexible and is willing to meet in person or over Zoom. It is really the best decision we've made to help us progress since we decided to start learning Japanese.
Studying by zoom is very rewarding and convenient. You can study Japanese with your teacher at home. It is convenient to be able to study together online anywhere. Moreover, the flexibility of time is also effective. You can listen to the teacher's explanations and interact with the teacher. It's easier to remember, harder to forget, and more memorable than studying by yourself. You can practice in conversations, and listen to words you don't know or learn understand and implement Japanese in your daily life. It's a lot of fun to study with the teacher online. Thank you very much for Osada sensei.