Japanese lessons to bring awareness and joy to everyday life.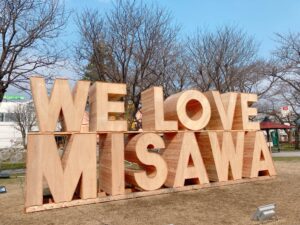 ▪︎ Improve communication skills with japanese kindergartens, school teachers, and other parents. Learn to make friends!


▪︎ Gain the ability to obtain necessary information when shopping in Japan.


▪︎ Develop the ability to read event information to enjoy life in Aomori and Misawa.
Private Japanese lesson for your educational needs and at your own pace.​
I recommend my lesson to those people who;
✔︎ Want to learn Japanese language to live in Japan.
✔︎ Want to take lessons during the daytime.
✔︎ Want to study, but you have small kids.
Qualified Japanese teacher
As a Japanese person born and raised outside of Japan, I was initially apprehensive about learning the language. However, since I started lessons with Asami-sensei, my proficiency and confidence in Japanese have improved significantly. Her personalized and patient teaching style has empowered me to communicate and travel Japan without the fear of the language barrier. Asami-sensei crafts each lesson to be engaging and easy to understand, making the learning process enjoyable. I'm always looking forward to our weekly lessons, which are always filled with new learning opportunities and cultural insights. I'd strongly recommend Asami-sensei's classes to anyone interested in learning Japanese, no matter their current proficiency level. She skillfully adapts her teaching methods to suit your needs, making every lesson a rewarding experience. Thank you, Asami-sensei, for giving me the invaluable gift of language and the confidence to use it!
I started taking face-to-face and online classes with Osada sensei last year. As I was already an advanced learner, I wanted to challenge myself a little bit and learn vocabulary related to current news. Sensei is able to adapt to all levels and creates documents for each class, prepares listening exercises, reading material related to current news, and homework. She has helped me deepen my understanding of the language and gain confidence when interpreting at work. She adapts to my schedule, requests, and even shows me around Misawa. She is a beautiful person both personally and professionally, I highly recommend her!
J'ai commencé à prendre des cours en face à face et en ligne avec Osada sensei l'année dernière. Ayant déjà un niveau de japonais avancé, j'avais envie de me challenger et d'apprendre du vocabulaire sur des sujets d'actualité. Sensei est capable de s'adapter à tous les niveaux et crée des documents pour chaque cours, prépare des exercices de compréhension orale, des articles de journaux et des devoirs. J'ai grâce à elle pu développer mes compétences linguistiques et gagner en confiance lorsque j'interprète dans le cadre de mon travail. Elle s'adapte à mon emploi du temps, à mes demandes et me fait même découvrir Misawa. C'est une belle personne tant du point de vue personnel que professionnel, je la recommande vivement !
My experience with Nihingo Ao has been nothing less than amazing . As a Japanese/American it was very important for me to finally learn Japanese and Asami-Sensei has truly helped me closer to my goal. I have been able to learn more about my own culture and speak and connect with my family members in a way I never could. She caters the lessons to your goals, whether you want to learn simple conversational phrases or fully deep dive into the Japanese language and culture! She is truly a gifted and knowledgeable teacher, and her lessons are fun but always challenging! If you are looking for a Japanese tutor for your child or yourself, you can not go wrong by investing in her lessons. My family and I can not recommend her enough!
Asami-san was incredibly patient and helpful during my Japanese lessons! I was nervous about speaking Japanese but her skilled expertise helped me gain confidence! After her coaching, I now enjoy a beginner's understanding of conversational Japanese! This has opened up more connections with the Japanese community for which I'm incredibly grateful. Asami-san's explanations and insight with speaking Japanese helped me learn so much about Japanese culture! Thank you Asami-san!
My husband and I started lessons with Asami last year. We were trying to learn Japanese on our own using apps. Asami created lessons specifically for us to help us where we were having difficulties. Having Asami guide us through our lessons and answer questions is beyond helpful. Asami always has a joyful personality and makes our lessons fun. She is very flexible and is willing to meet in person or over Zoom. It is really the best decision we've made to help us progress since we decided to start learning Japanese.
The scheduling is very easy! The lessons are paced well, and with very easygoing conversation. Since beginning lessons I can converse very well with new people in Japanese and I've made many new friends!
Studying via zoom is very rewarding and convenient. You can study Japanese with your teacher at home. It is convenient to be able to study together online anywhere. Moreover, the flexibility of time is also effective. You can listen to the teacher's explanations and interact with the teacher. It's easier to remember, harder to forget, and more memorable than studying by yourself. You can practice in conversations, listen to words you don't know, or learn to understand and implement Japanese in your daily life. It's a lot of fun to study with the teacher online. Thank you very much for Osada sensei.